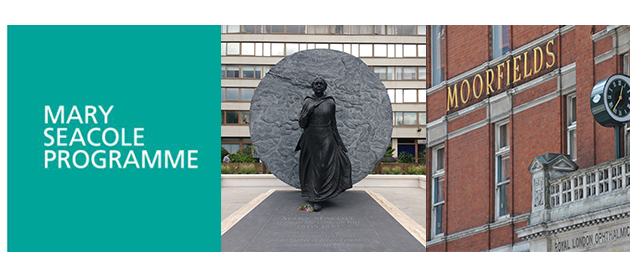 The Mary Seacole programme is a leadership development programme aimed at aspiring and first time leaders. It is designed to develop the knowledge, skills, attitudes and behaviours needed to be a successful leader in a healthcare environment. Moorfields has been selected by the Leadership Academy to run a locally tailored programme internally.
What does the programme look like?
• It is a 6 month programme
• It requires around 100 hours of online study
• There are 3 mandatory workshops to support your learning
• It covers 12 modules, including recruitment and selection, finance fundamentals, HR fundamentals, and appraisals and annual reviews
• It is assessed via a single, 2000-word written assignment asking candidates to reflect on their leadership impact
• There are no academic requirements to take the course, making it widely accessible
• Those who complete the course will earn an Award in Healthcare Leadership from the NHS Leadership Academy.
We will run multiple cohorts throughout the year, each consisting of 12 delegates. If you would like to know more about the programme, you can watch an introductory video or contact Stephanie Scoffield.
Key Dates:eptember
Cohort 7:
Introduction - 22nd August 2018
Workshop 1 - 2nd October 2018
Workshop 2 - 30th November 2018
Workshop 3 - 30th January 2019
Cohort 8:
Introduction - 26th September 2018
Workshop 1: 2nd November 2018
Workshop 2: 10th January 2019
Workshop 3: 7th March 2019