Eye care beyond the eye
What is the MED course?
A unique opportunity to learn from leading ophthalmologists and medical experts as they collaboratively discuss common and challenging medical scenarios encountered in the eye clinic theatre.

Building upon two highly successful MED courses, this year will provide ophthalmologists with latest advances in imaging and treatment strategies on numerous specialities and help you to manage complex systemic problems.

We will deliver 8 sessions across 2 days on 11th and 12th July. This year the chosen specialities we will to cover are:
Cardiology

Anaesthesia

Trauma

Orbital/ Maxillofacial & ENT

Genitourinary medicine

Obstetrics & Gynaecology

Dermatology

Neurology
Example questions we will answer this year include:
What causes malignant hypertension and how do we manage it?

What is the risk of stroke in ocular ischaemic syndrome?

Is repeated anaesthesia safe in children?

How can we manage anticoagulants pre-operatively?

Acid attacks- how do we treat the eye and the face?

How do we manage periorbital eczema and rosacea?

How does MaxFax manage orbital fractures?

When and how does ENT drain orbital abscesses?

How sick is a patient with neurosyphilis?

What are the risks of steroids in pregnancy?

New treatment strategies in optic neuritis and multiple sclerosis?

How do we know that migraine is not TIA? When should we investigate?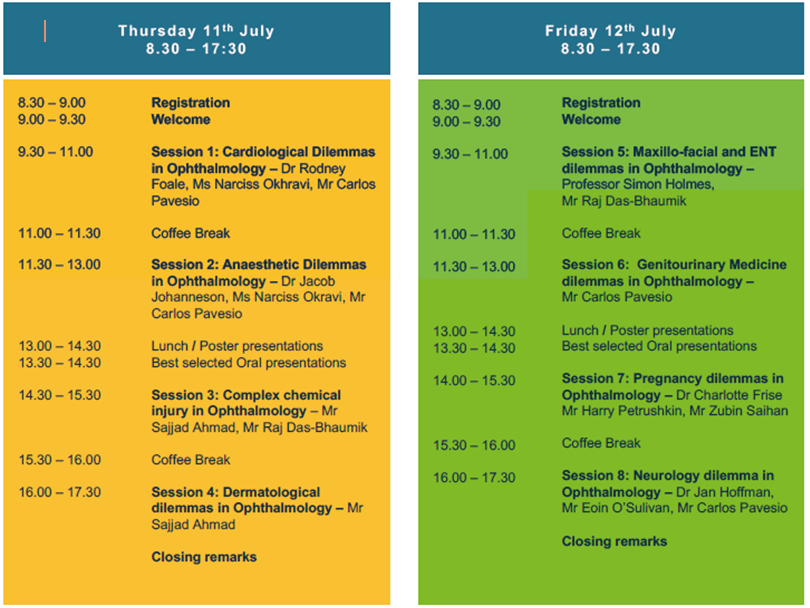 Who Should attend?
The course is aimed at ophthalmologists of all levels but has greatest appeal to more senior trainees and consultants. We have also had interest from allied ophthalmic staff and the courses have been highly rated by non-ophthalmic specialists in the past.
Oral and Poster Presentation
The 2019 symposium introduces an oral and poster prize competition.

Abstracts and presentations will be judged on the following criteria:
Complexity of clinical dilemma presented

Degree of overlap between ophthalmology and other medical specialities and degree of MDT approach

Clarity and illustration of poster/ oral presentations

Answers to questions posed by panel
Format: 5 minute poster presentation or 10 minute oral presentation.
Deadline for abstract submission: 30th June 2019
Please download, fill in and email the form below to z.juma@nhs.net
The MED team
Ms Narciss Okhravi, Consultant ophthalmologist and Director of undergraduate teaching at Moorfields Eye Hospital is supported by:
Dr Zain Juma (Teaching fellow & Specialist trainee),

Ms Najiha Rahman (Medical retina and uveitis fellow)

Ms Laura Ah-Kye (Specialist trainee)

Ruth Seager (Manager of the postgraduate education office)
A number of sub-speciality consultants at Moorfields Eye Hospital will be chairing different sessions.
DISCOUNTS AVAILABLE FOR MOORFIELDS STAFF (contact ruth.seager1@nhs.net)
Sorry, currently there are no products/events available for this category, please take time to browse our other categories displayed on the left hand side of the screen or please try again at a later date.